Accessible patient booklet launched [02/02/18]
IACP also planning accessible client booklet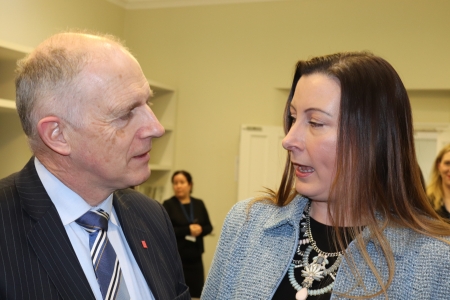 The Medical Council has launched a booklet entitled 'Working with your doctor: useful information for patients'. The booklet, which is available in English, Irish, French, Spanish and Polish. It was launched by Minister of State for Equality, Immigration, and Integration, David Stanton. The Chief Executive of the Irish Association for Counselling and Psychotherapy, Ms Lisa Molloy (pictured above with Minister Stanton at the launch), said IACP plans a similarly accessible booklet for clients and the public.
The Medical Council booklet aims to help people get the best health care through working in partnership with their doctors and other health professionals. It outlines the different types of doctors that might treat you, what you can expect from them and how you can work with your medical practitioner to improve your care.
Attending a doctor when you are unwell can be a stressful experience, but even more so if you are not familiar with the healthcare system. The translated guides will assist those who are new to Ireland or those for whom English is not their first language. According to Census 2016, over 220,000 people in Ireland speak French, Spanish or Polish as a first language. This booklet will provide valuable advice and reassurance for all those who may have questions for their healthcare provider.
Speaking at the launch, Minister Stanton said he was delighted to support such an initiative. "I commend the Irish Medical Council for developing this valuable resource for French, Polish and Spanish speaking migrants and the medical profession alike. Ensuring equality of access for migrants to mainstream services such as primary healthcare is a key aim of the Government's Migrant Integration Strategy 'A Blueprint for the Future'. The Strategy recognises that language can be a major barrier to ensuring migrants achieve the same outcomes when they access services on the same basis as Irish people and it contains a number of actions which aim to remove those barriers. This initiative by the Medical Council is very much aligned with those actions and is a great example of how we can continue to adapt our services to reflect the needs of a more diverse Ireland. I congratulate all who were involved in the booklet's production on a job well done." concluded Minister Stanton.
Ms Margaret Murphy, patient advocate, External Lead Advisor, WHO Patients for Patient Safety and Medical Council member also addressed the audience at the event.
Ms Murphy said "Modern healthcare views the patient as a partner in his or her own care. True partnership exists when there is effective communication and shared decision-making. Hence the value of this patient booklet which facilitates and enhances both objectives for those who are unfamiliar with the Irish healthcare system."
"Any facility that helps people enjoy a more cooperative relationship with their doctor is a positive thing. Patients should not be afraid to ask questions to know what their medical practitioner is talking about, and these booklets are a wonderful development to help further the doctor - patient connection." concluded Ms Murphy.