IACP holds talks with Mental Health Reform
Agreement on need for wide use of talking therapies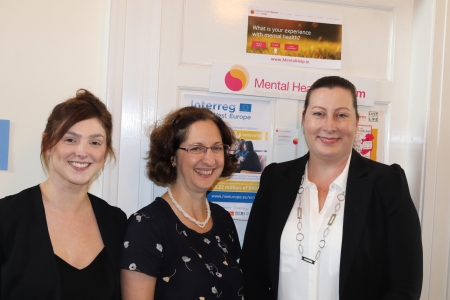 IACP has held very productive talks with Mental Health Reform. There was agreement regarding the need for wide use of talking therapies. MHR has said one of the strongest messages to come out of the consultation that fed into A Vision for Change was that people with poor mental health want alternatives to medication, including access to counselling and psychotherapy. A Vision for Change states "…the consensus among users and service providers was that psychological therapies should be regarded as a fundamental component of basic mental health services, rather than viewed as additional options that are not consistently available." This view was reiterated in the Independent Monitoring Group's consultation meetings held in 2012 as well as in Mental Health Reform's consultation meetings conducted in 2011.
A Vision for Change recommends that "all individuals should have access to a comprehensive range of interventions in primary care for disorders that do not require specialist mental health services." This requires that primary care services have access to psychological therapies as part of a holistic approach to mental distress.
There is also adequate evidence demonstrating that psychotherapy is an effective treatment. An Irish review of the evidence has found that psychotherapy either alone or in combination with other treatments/supports is effective for a wide range of mental health diagnoses in adults, young people and children. The average success rate for participants in psychotherapy is 65-72%, while a majority of clients would require 20-45 sessions in order to recover. The WHO argues that there can be successful treatment of depression in primary care using a combination of medication and sychotherapy/counselling, while a 2007 study in the UK provides evidence that counselling in primary care brings slight improvements compared with normal GP care and that service users are very happy with such counselling.
There is also evidence that providing counselling through primary care is cost-effective. The HSE Working Group on Mental Health in Primary Care cited a 2001 study in the UK which found that counselling led to savings in the UK. There were fewer referrals to National Health Service (NHS) Out-Patient Services and fewer GP consultations in the year after counselling. In the UK, the National Institute for Health and Clinical Excellence (NICE) advocates that the NHS should provide psychological therapies. There is now a programme called Improving Access to Psychological Therapies (IAPT) in the UK. In three years this programme will have introduced 3,600 new psychological therapists to England's primary care trusts (PCTs) with the aim of reducing waiting times. As of the end of the second year of the programme, recovery rates were averaging 40%.
Given the evidence base and the strong message from people with personal experience of mental distress that they want greater choice in mental health care and services that provide listening, Mental Health Reform believes that individuals with an assessed need should have timely, affordable access to psychological therapy. In keeping with the 'stepped care' model for mental health services in primary care, it would make sense for psychological therapies to be accessible through primary care for individuals who do not require specialist mental health care.