Galway - Student & Pre-Accredited Members Information Evening
Focus on being self-employed, working for a State Agency, volunteering and being in the Education Sector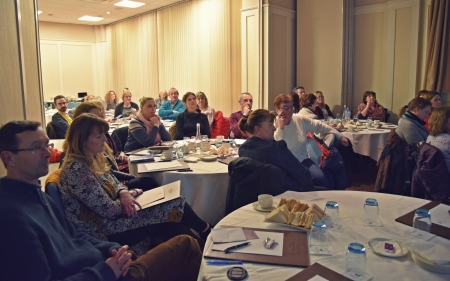 The Galway Student and Pre-Accredited Members Information Evening took place on 23rd February 2018 in the Harbour Hotel in Galway. The event was facilitated by Lisa Molloy, IACP CEO, who introduced three speakers sharing their experiences from different angles focusing on being self-employed, working for a State Agency such as HSE, volunteering and being involved in the Education Sector.
Christine Moran, the Founder of ICPPD and Carl Berkeley Memorial Award Recipient 2016, spoke about her personal growth, becoming a therapist, setting up the college and working in education sector.
Margaret Plunkett, the Chair of IACP CPD Committee and Member of Professional Practice Sub-Committee, presented the new CPD Policy and the need for Continuous Professional Development but also spoke about her Counselling and Psychotherapy journey and establishing her practice.
John Whelan, who is a Member and the Founder of Galway Adolescent Psychotherapy Centre (GAPC) gave a presentation on career change, becoming a therapist and working with adults and adolescents in both, public and private sectors. He also focused on the need to upskill, to specialise and get involved on the local level in voluntary organisations.
The event was a great experience to network, meet IACP staff and make local connections with practitioners in training but also those who are well established.
There will be several events for Students and Pre-accredited Members later this year organised in different locations around the country.