Course Re-Accreditation Process
This section is aimed at courses in Counselling and Psychotherapy considering applying for IACP Course Re-Accreditation.
The flowchart displayed below outlines the steps involved in the Course Re-Accreditation Process.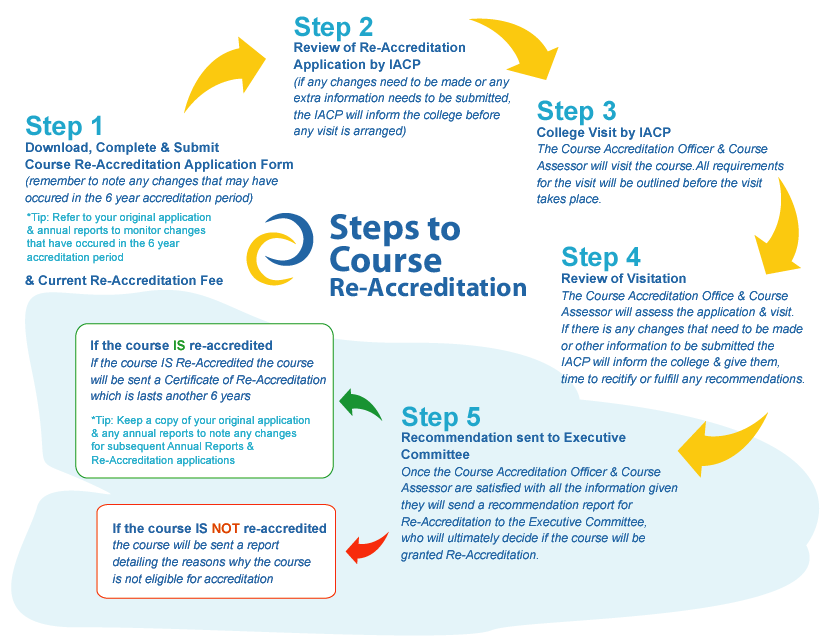 Once Re-Accreditation is awarded courses are accredited for six years subject to ongoing monitoring and adherence to the IACP Course Accreditation Criteria. The Course Accreditation Officer is available to support and guide you through each step of this process.
Within the Education section, it is possible to download the Course Accreditation Criteria, Re-Accreditation Application Form and email any queries you may have during the application process.
Responsibility / liability
The course is responsible for ensuring that it understands, meets and continues to meet all requirements for course accredited status. Where IACP suspends or withdraws accredited status from a course, it is a matter between the Course Provider and its students. IACP has no liability to students on a course where it suspends or withdraws its accredited status. The Course Provider of the course will be responsible to the students for any detriment caused to them as a result of the course losing its accreditation.