Carl Berkeley Memorial Award 2021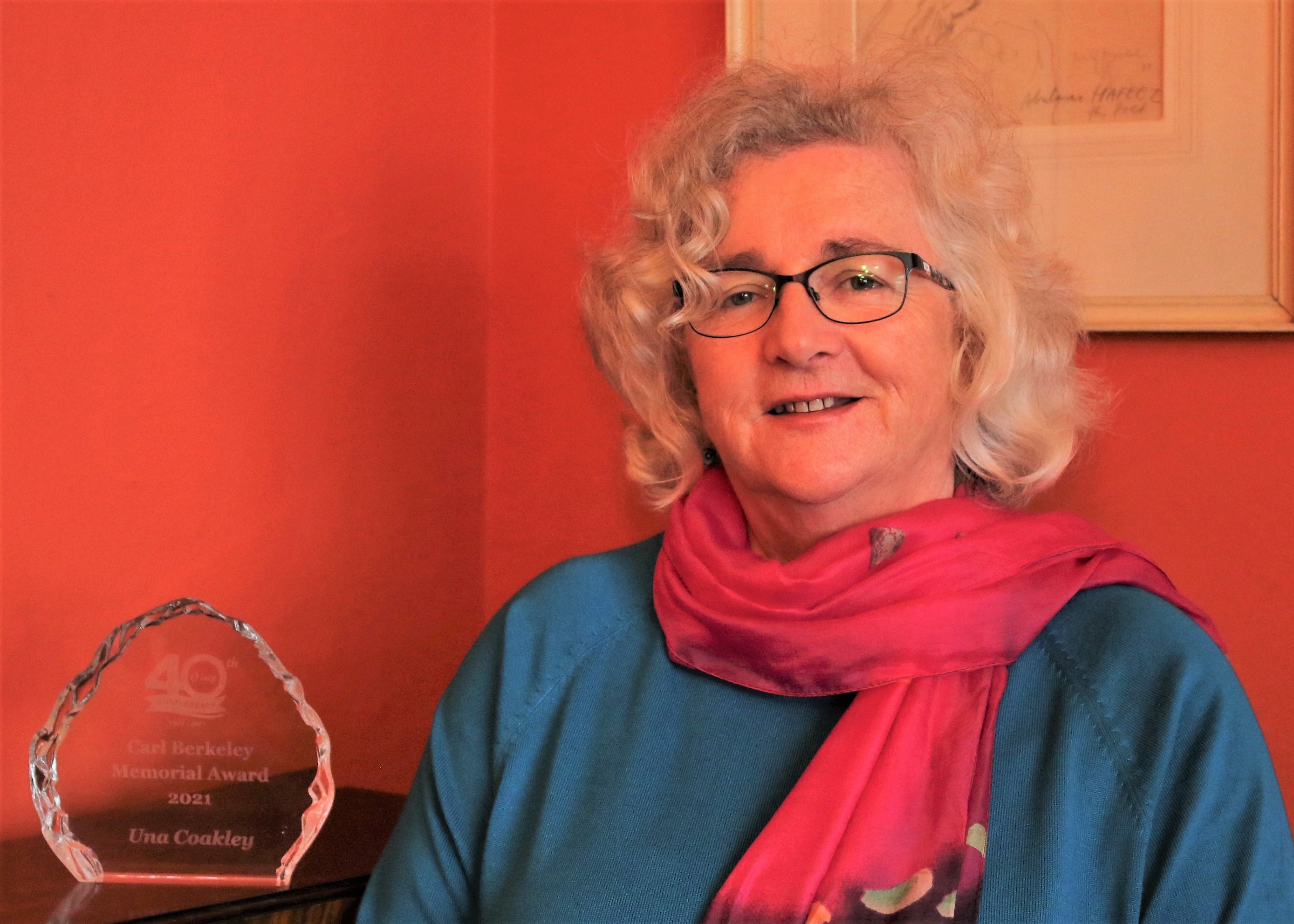 Úna Coakley, Oct 2021
Acceptance speech for the Carl Berkeley Memorial Award
My sincere thanks to the Carl Berkeley Award committee and the IACP Board of Directors for choosing me as this year's award recipient. It's a great honor to receive it and to have my contribution to the field of counseling and psychotherapy acknowledged. It's a particular pleasure for me that the nomination for this award came from my Munster Technological University colleagues and from the CIT Post Graduates Association. My sincere and heartfelt thanks to them also.
I want to acknowledge the role that the Cork Institute of Technology, now the Munster Technological University, has played in promoting the development and training of Counsellors and Psychotherapists and its commitment to accessible, affordable training in the region. I want to give particular mention to my fellow Carl Berkeley award winner, Gus Murray, who was so pivotal to those developments. l'd like to thank all my former colleagues who contributed so much to the growth of the MTU programmes over the years.

I'd also like to express gratitude for the support I have always received from my immediate and extended family.
I never met Carl Berkeley. But I have a strong sense of him as a person who was deeply empathic, warm and charismatic. Someone who felt strongly about the development of our profession. Someone who valued high professional standards. To be associated with him and what he stood for is a deep pleasure and privilege.
I'm conscious as I write this of the circumstances in which we have found ourselves over the last 18 months due to the pandemic. The very fact that this event has needed to take place virtually is an indicator of the challenges we have faced and continue to face. Like many other professions, we have been required to make monumental adjustments in order to continue to be available to clients, supervisees - and for those of us involved in training - to our trainees. It's my belief that our capacity to make those adjustments comes from solid foundations that have been laid down over years.
The foundations of my work as a psychotherapist date back to my time as a community welfare officer and social worker. These experiences gave me a great insight into socio-political contexts and their impact on human experience. That insight has continued to influence my approach as a practitioner and a teacher. It is my view that the practice of Counselling and Psychotherapy must take as much account of the external world of the person as the internal one. I also look forward to the time when Counselling and Psychotherapy will become a mainstream service, available to everyone, no matter their circumstances.

My first introduction into the power of the inner life was when I trained in group facilitation with the Cork Social and Health Education Project here in Cork. This project has had a major influence on the development of social and psychological services in the Munster region and for many counsellors and psychotherapists in this part of the world, SHEP was their first 'home'. I think of people like Eileen Lynch, Frank Dorr and Fiona Devlin, and I'm grateful for what they created and modelled in this context: deep compassion, presence and a willingness to stay with vulnerability, their own and others. A Higher Diploma in Psychodynamic Psychotherapy, in UCC, followed by a Masters in Integrative Psychotherapy in the Metanoia Institute in London, all brought me into full engagement with the Counselling/Psychotherapy field. I remember fondly and with great respect Professor Maria Gilbert, who was Head of the MSc in Integrative Psychotherapy at Metanoia and who sadly passed away last year. Maria was a wonderful teacher and communicator, encouraging and challenging in equal measure. Her depth of knowledge was extraordinary – and she taught all her classes using only a flipchart!

As a teacher and trainer myself, I have tried to draw from all these experiences and influences. It's not always easy to assess what one has communicated and what's been heard over the 33 years of my involvement in the practice and training of Counselling and Psychotherapy. But I hope that I have communicated and imparted what comes from the value base that resulted from all the above.

I calculate that I have been involved in the training of several hundred students over that time. I sincerely hope that most of those students have felt supported, encouraged and respected. I hope they've learned from me the importance of relationship, of presence, of compassion balanced by challenge. I hope they've learned the importance of knowing and taking responsibility for themselves. I hope they've seen the value of human kindness, that they have a willingness to be human and to make mistakes, to take responsibility for those mistakes an learn from them. And finally, I hope they have a sense of the art as well as the science of therapeutic work.

And what have I learned from those students and clients that I've been privileged to work with over the years? I've learned that the human spirit will assert itself if facilitated and that the capacity for resilience and recovery is deeply held. I've also learned that therapy is as much about soul as it is about the head, heart and body. My work as a psychotherapist and as a teacher has taught me that sometimes change is too hard, that therapy has as much shadow as any other profession, that it has limits and that therapists are limited. It has also taught me that not knowing is a familiar enough experience as you sit there in the chair and that sometimes, as Seamus Heaney put it in his poem The Gravel Walks, you have to just "walk on air against your better judgement". (Seamus Heaney, Spirit Level, Faber and Faber, 2001)

Above all, I've come to appreciate therapy that is slow, steady and quiet.

I favour some theorists and approaches above others and I welcome more recent, exciting professional developments, but I have come to realise that there isn't any magic – just hard work, insightful work and the willingness to do it. The poet, Mary Oliver, illustrates this realisation well in this extract from her tribute poem to US Poet Laureate, Stanley Kunitz:
I used to imagine him
coming from the house, like Merlin
strolling with important gestures
through the garden
where everything grow so thickly
where birds sing, little snakes lie
on the boughs, thinking of nothing
but their own good lives...
But now I know more
about the great wheel of growth,
and decay and rebirth,
and know the vision for a falsehood.
Now I see him coming from the house-
I see him on his knees,
cutting away the diseased, the superfluous,
coaxing the new,
knowing that the hour of fulfilment
is buried in years of patience -
yet willing to labour like that
on the mortal wheel.
Oh, what good it does the heart
to know it isn't magic! (Mary Oliver; Dream Work; The Atlantic Monthly Press, 1986)
Úna Coakley