IACP unveil 'proven cost-effective solution' [07/02/18]
Joint committee told of innovative IACP primary care plan to tackle counselling waits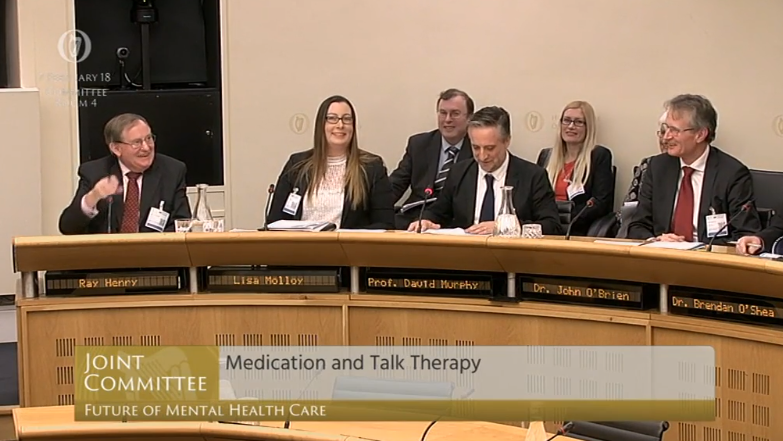 The Irish Association for Counselling and Psychotherapy (IACP), has told the Joint Oireachtas Committee on the Future of Mental Healthcare that it believes there is a shortage of counselling services in the community and it unveiled its action blueprint to tackle this.

IACP Committee playback starts at 38 minutes:
http://www.oireachtas.ie/viewdoc.asp?DocID=37790&&CatID=127
"It is vital, we believe, to increase access to therapy and to facilitate patient choice," said Chair Ray Henry. "Patients must feel confident they have been prescribed the treatment that will best address their needs – whatever form that may take." One size does not fit all, said the IACP Chief Exexutive, Lisa Molloy, who added: "One of the strongest messages to come out of the consultation that fed into A Vision for Change was that people with poor mental health want alternatives to medication, including access to counselling and psychotherapy."
But counselling or psychotherapy are not always available – unless you pay for it. Regulation to ensure high professional standards is vital. However, there are significant gaps in provision and access to counselling in Ireland. IACP welcomes the commitment in the Programme for Government to "extend counselling services in primary care to people on low income". It is imperative, however, that adequate resourcing is provided to ensure that this commitment translates into practice.
The HSE has developed some counselling services, but a common complaint is that they do not have enough resources and cannot supply a sufficient level of appointments or long-term therapy. The demand for CIPC is steadily growing and as outlined above the number of referrals to the service has increased by almost 30% between 2014 and 2016. The waiting lists for access to a first appointment demonstrate Increasing demand on the service.
IACP recognises that the brief therapy currently on offer from the HSE is not sufficient – in terms of access or number of sessions - for families in marginalised areas. One bottleneck that underlies counselling waiting lists in Ireland is over dependence on the Cognitive Behavioural Therapy approach. One size does not fit all and increased access to counselling would help address the current drop-out rates.
Our counterpart UK organization, the BACP, has developed a treatment for depression that is delivered by counsellors and psychotherapists. Our members are ideally placed to implement the same evidence-based programme here and to fill a clear service gap.
The figures, quoted in our written submission, speak for themselves. The Counselling for Depression programme in the UK follows NICE guidance. The Improving Access to Psychological Therapies (IAPT) initiative has enabled a choice between bona fide therapies in Britain. In the UK, the target is that 75% of referrals would be seen within six weeks and 95% within 18 weeks. Counselling for Depression (CfD) as Prof Murphy will outline to you, is a formatted, manualized therapy used in Britain's NHS. Counselling for Depression results from the NHS dataset show equivalent success rates with CBT. The evidence is there from NHS service data, that the same results are achieved with fewer sessions per patient. The attraction is that Counselling for Depression costs less. Under the UK programme, programme, counselling is the second most availed of approach after CBT.