Meet the Board: Liz O'Driscoll [19/08/20]
IACP Board of Directors' Liz O'Driscoll Speaks to Us About Her Career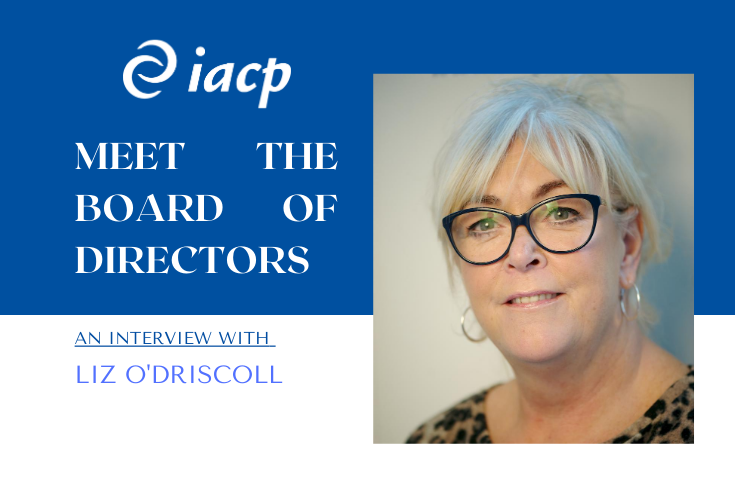 What made you interested in a career in counselling/psychotherapy?
I suppose I have always been in the people/relationship business in that I started my work life as a hairdresser and went on to open some salons so worked with teams as well. I found that people often took the opportunity to "offload" personal experiences that they were challenged with. In the meantime, I was doing some voluntary work with a listening service in Dublin and I really liked the training so decided to go ahead and do a cert in NUI in counselling and psychotherapy. What followed, was 10 years of study and part-time practice that culminated in a masters in cross-professional supervision. I have always had the sense that "the human condition" needs to express itself and how important it is for the process of therapy to facilitate this in a safe trusting environment. While many theories and models of practice have become fashionable at different times, it is essential that the relational piece is nurtured (however short) for change to happen.
What advice would you give to the new generation of IACP Members?
While education is hugely important to give us our foundation professionally, it's also important to understand and experience the need to bring our humanity to the table regarding our work. Bringing all the elements of the relationship in a sometimes short and structured timeline, is something we learn with experience. Kindness, compassion, intuition, and laughter are all equally important components that we can model and experience with our clients. I would also (from experience) understand that our profession can be a lonely one, particularly if we are in private practice so I would stress the importance of being part of an accreditation body. As well as the support membership brings to us, we can also feel part of something so that we can network and connect with our peers.
If you could give a younger you any piece of advice what would it be?
"Don't sweat the small stuff"
What do you think the future looks for our profession?
What interesting times! We, like other professions, have had to adapt very quickly to our present world circumstances. As a supervisor, I did experience an initial resistance from therapists to work in new and sometimes creative ways, however as time passed, and the IACP and others provided training we have started to develop our "new norm". I feel the future of our profession is bright and healthy and with the support of IACP, we can continue to develop and embed our profession into the fabric of mental health services. Being a board member of the IACP has exposed me to all of the work that is being done to promote and provide the quality of work that we do as members. I would encourage members to get involved so they can experience the level of work and support for themselves.
What skills/attributes are essential for working in this profession?
Over years of practice, I have seen many changes as our profession has grown and evolved in Ireland. With a higher level of education and skills practice now being criteria to practice, I feel we mustn't lose sight of the innate humanness that we bring to our work. From a business prospective we also need network/marketing skills and business acumen, all of which the IACP and our peers can support us with.
What key piece of learning has the Pandemic taught you?
I think this pandemic has disturbed our illusion as a race that we are "in control" and it is teaching us that what we have is the ability to respond to what the universe presents to us. We are robust, resilient and adaptable as a profession and as humans. "This too shall pass"