Meet the Board: Izabela Morris [19/08/20]
IACP Board Member Izabela Morris speaks to us about her career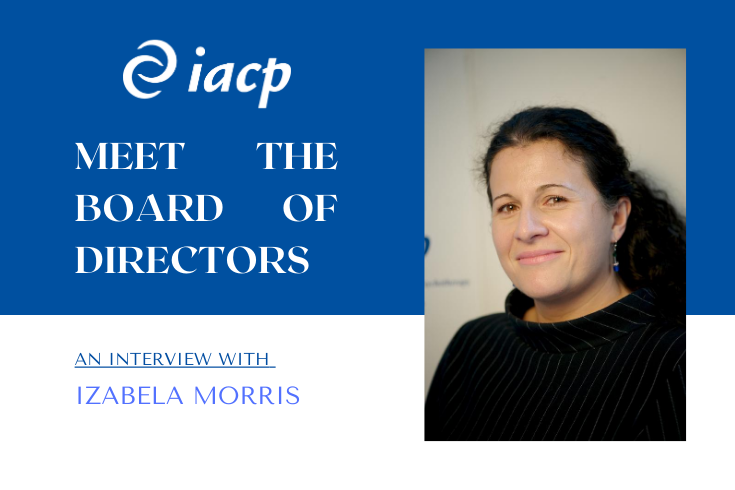 What made you interested in a career in counselling/psychotherapy?

It wasn't a simple decision in my case, more like a long process. Since childhood I was interested in wellbeing. My interest could have emerged due to a family member suffering from a prolonged illness, or because I was in a very serious accident in my childhood. All the jobs I had in the past were people/wellbeing-based.
I always loved studying and if I lived in an ideal world, I would be a curator at a museum, a historian (not a teacher), a librarian, a social worker or a nurse. Instead the pressure was put on me to be a lawyer. After 2.5 years studying law, I left the university very unhappy. It was a turning point in my life. I completed a 2-year-long course of natural therapies that put me on the 'road less travelled' towards healing and fulfilling my call. My interest in understanding body, mind and spirit dynamics, the 'Psychology of Depth', the "Cause and Effect" in my life and in other people's lives all lead me to leave my home country Poland. I moved to London for a few years, continuing my holistic studies and then came to live in Ireland in the beginning of 2003. My early life in Ireland provided me with even more adverse circumstances that I overcame – this being the second turning point in my life. Immediately after that, I enrolled myself to a course for the Certificate in Psychology. After that, the 'road less travelled' brought me to learn about counselling and addiction related theories, meditation, spirituality and culture. While working in a residential rehab I got inspired by conversations with some of the clinical staff members there and made a decision to enroll to a counselling/psychotherapy program.
Getting my core qualifications and accreditation was like reaching the peak of Mount Everest; an exhausting but priceless achievement. I feel privileged to be able to assist people who come to my practice and put their trust and faith in me, especially teens and young people.

If you could give a younger you any piece of advice what would that be?

The best of life, love and happiness is ahead of you.

What advice would you give to the new generation of iacp members?

I am a relatively new IACP member, I joined in 2012. I believe in the apprenticeship in the counselling/psychotherapy profession that leads practitioners to the mastery. It takes time, motivation, passion and some personal sacrifice. I look up to my wise and experienced colleagues, my supervisor and continue to learn from them.
My advice to new IACP members would be: try to find balance between study, seeing clients, your family and friends, and whatever else is going on for you. Training and getting accreditation for the first time might be (but doesn't have to be) a lengthy, exhausting, and expensive (in terms of energy and resources) process. Embrace what you have learnt, be patient and practice self-care every day. Get involved with your peers and a professional organization, we are all interlinked and we need to support each other.

What do you think the future looks like for our profession?

I am optimistic about the future of our profession, seeing many great things being done. I am happy knowing that society is more open to possibilities of getting engaged with counselling/psychotherapy and that the stigma surrounding mental health is being resolved (as per recent research). I am pleased that the government recognizes the importance of our profession (upcoming statutory regulation). I know there are challenges ahead of many IACP members and that it might be hard for some. I feel that the pandemic made it very clear that more counselling/psychotherapy facilities are necessary. Regardless of age or background, everyone has mental health that needs proper attention at times and we all should be able to access services of our choice when needed. This provides a great challenge, and a great opportunity for our profession. I hope that new work opportunities will be created to meet these needs.

What skills/attributes are essential for working in this profession?

Essential skills for working in the counselling/psychotherapy profession in my opinion are: the ability to hold the space, to sit with the uncertain, to create a safe environment where a person can pour their heart and the awareness that there is always a bigger picture to what happens. Reflection and patience are crucial.
What key piece of learning has the pandemic taught me?
I didn't experience any 'light bulb' moments during the lockdown. The experience was bittersweet, more bitter than sweet. Terrifying news from all over the world about illness, hunger, death, mistreatment and loss were counteracted with hope in humanity, help, good will and solidarity. There are so many things the individual person has no control over, we are all interconnected via a multitude of links. We are all strongly depending on each other. All links and connections were affected by Covid19. I feel that everyone in the counselling/psychotherapy profession can acknowledge that the aftermath of the pandemic will be long lasting and there might be a need for our presence and active involvement more than ever.
I found myself grateful for the time in lockdown – it helped me to finish some projects I was involved with and also 'take it easy' with my life. I haven't felt this bored since my teens and it was a great feeling to revisit. In my opinion boredom fosters creativity and invention. Thanks to the pandemic I don't feel 'technologically thick-witted' anymore