Essential Conversations with IACP [29/04/21]
Essential Conversations with IACP: Join The Irish Association for Counselling and Psychotherapy as they celebrate their 40th Anniversary.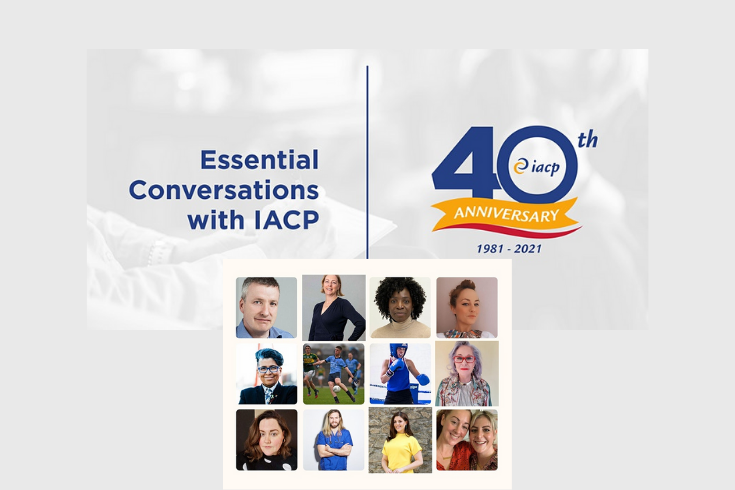 As previously mentioned in our March Newsletter, the IACP will soon host a public event called Essential Conversations with IACP.
The purpose of the event is to promote the work of IACP and its members to potential clients. Attendance at the event will not carry any CPD points, but a recording of the event will also be shared with IACP members in the Members' Area of iacp.ie after the conference so you can watch it on your own time.
Please see below for more information.
'Essential Conversations with IACP' - a new free virtual conference connecting mental health and wellbeing professionals.
The event will be MC'd by Blindboy and aims to promote the positive benefits of counselling and psychotherapy on mental health through open conversation, promoting awareness, and sharing real-life experiences.
With practical advice on topics such as Body Positivity, Parenting, Sports & Mental Well-being and Inclusion & Diversity from experts in these fields.
Body Positivity
Dr Joshua Wolrich MBBS MRCS:
NHS surgical trainee and nutrition MSc student who is not only setting the record straight when it comes to people claiming food is medicine, but aggressively fighting weight stigma and encouraging his patients to have a healthy, happy relationship with their bodies and food. He follows a Health at Every Size® approach and you can find him using social media to campaign for healthcare to become weight-inclusive. His Sunday Times Bestselling debut book, Food Isn't Medicine, is out now.
Emma Murphy: Disordered Eating Specialist Psychotherapist for over 12 years and author of the Eating Freely Program for Emotional & Binge Eating.
Intuitive Eating Ireland - Sinead and Gillian Crowe: Intuitive Eaters in training: Sinéad - mental health nurse & nutritional therapist & Gillian - mental health social worker & yoga teacher.
Emma's Cottage Kitchen: Emma Kelly is a Fat Body Acceptance Activist and Food Blogger with a passion for Intuitive Eating (currently training to be a certified Intuitive Eating Counsellor) and the Health At Every Size (HAES) movement, and learning to accept and embrace life in a large fat body.
Parenting
Colman Noctor:
Colman Noctor is a Child and Adolescent Psychoanalytical Psychotherapist. He has worked across a range of Child & Adolescent Mental Health Services both in Ireland and abroad and he has a wealth of national and international clinical experience.

Síle Seoige:
Síle Seoige is a native Irish speaker and has spent the past twenty-three years working in the media industry in Ireland, primarily as a television presenter. She has a popular podcast called 'Ready to be Real conversations' which provides thought-provoking discussions with well-known guests, as well as guests who have extraordinary stories to tell. Other elements of her career include being a wellness speaker, a radio presenter, an event MC, a voice-over artist, a writer and even as an occasional singer and actor.
Margaret Parkes: Systemic psychotherapist, running a busy private practice in Dublin for over 20 years. During this time, she has built up an extensive client base of adolescents, adults, couples and families.

John Sharry:
A social worker and family psychotherapist with over 30 years of experience as a child and adolescent mental health professional. He is co-developer of the award-winning Parents Plus Programmes and the best selling author of fourteen positive psychology and self-help books for families including Positive Parenting and Counselling Children Adolescents and Families.

Sports & Mental Wellbeing
Shane Carthy:
Dublin footballer Shane Carthy has experienced epic highs and desolate lows in his life to date. His public and honest openness about his struggles with mental health are both well known and have been widely well-received to date.
Lindsay Peat: Lindsay Peat is an Ireland women's rugby union international. Peat represented Ireland at the 2017 Women's Rugby World Cup. Peat is an all-round sportswoman.

Mary Kate Slattery:
Mary Kate is a boxer and law graduate who through her own struggles with anorexia has developed a passion for mental health advocacy, promoting positive self -talk and a holistic attitude towards wellbeing.

Phil Gormley MIACP:
Working full time as a walk and talk therapist who also frequently works with clients in building confidence and focusing on their sport of choice.

Inclusion & Diversity
Dil Wickremasinghe:
Dil is a social entrepreneur and founded the mental health support service Insight Matters with her wife Anne Marie Toole in 2013. Along with a team of 85 practitioners, they provide inclusive and culturally sensitive counselling, psychotherapy and wellness services to over 500 clients per week. Together they hope to "inspire change in self and society."

Ejiro Ogbevoen:
Dublin based Counselling Psychotherapist with over ten years experience, Ejiro founded Black Therapists Ireland with the intent of actively promoting mental health and wellbeing amongst people of colour

Laura O'Donovan:
Laura O'Donovan is the Founder & Managing Director of Pink Polar Bear Training & Consultancy, a business that specialises n delivering Diversity & Inclusion Training along with annual strategy solutions for Organisations who are on their EDI Journeys.

Including a keynote address on 'Mental Health is Essential Health'
The conference will also include workshops, which will include yoga, meditation and mindfulness classes from Padraig O'Moran and others.
Who is this for?
This free conference is for anyone who would like to understand a bit more about counselling and psychotherapy and their role in mental health and wellbeing, overcoming stigma and learning practical tips on integrating positive mental health into their daily lives.
Please follow this link for the event page.