In Memoriam: Ger Byrne [17/08/20]
Barbara Dowds and Marjorie Travers MIACP remember their friend Ger Byrne MIACP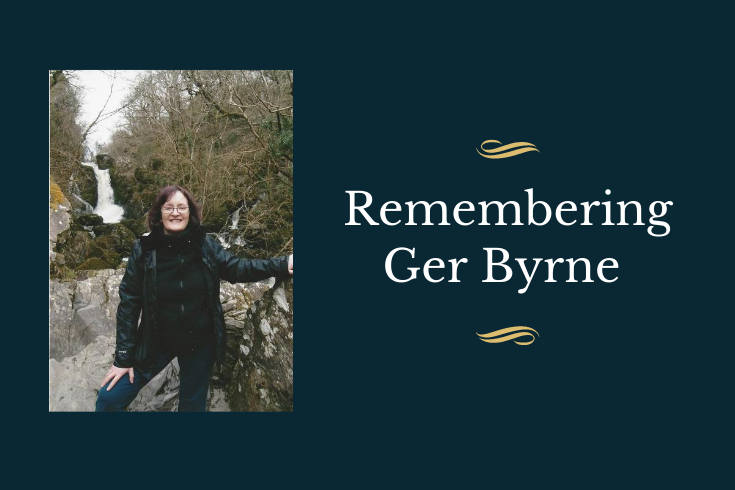 by Barbara Dowds and Marjorie Travers
Ger Byrne, died on 14th October 2019 after a long illness.
Much of Ger's professional career was in teaching English at second level before moving into the realm of counselling in later years. Having trained in PCI College, Ger's particular belief in the Person-Centred Approach led her to become an active committee member and eventually chair of the Irish Association for the Person-Centred Approach.
Bringing her years of teaching experience to the training of counsellors in PCI College, Ger integrated the Person-Centred Approach, Focusing and her love of poetry in an innovative way. As an accomplished poet herself Poetry Therapy was a process to which she was naturally attracted. She organised workshops and, for several years, ran a poetry therapy experience for the public on culture night in Dublin. She also served as a member of the editorial team of Eisteach.
Ger was a very special human being. She knew what beauty was and sought it out constantly in nature, in music, in poetry and in relationship.
During the years of illness Ger continued to work with passion as counsellor, supervisor and tutor. Although her life was cut short, she lived a life full of generosity, gratitude and appreciation. Her warm-heartedness and positivity is greatly missed by those who had the privilege of knowing her both personally and professionally.
We extend our sincere condolences to her husband John and daughters Eadaoin, Laoise and Iseult.
Ar dheis De go raibh a hanam.
If you would like to memorialise or share the obituary of an IACP Member, please contact
hugh@iacp.ie
.