Covid 19: Tips from the IACP [30/03/20]
IACP Members offer tips for coping with Covid-19 and the Lockdown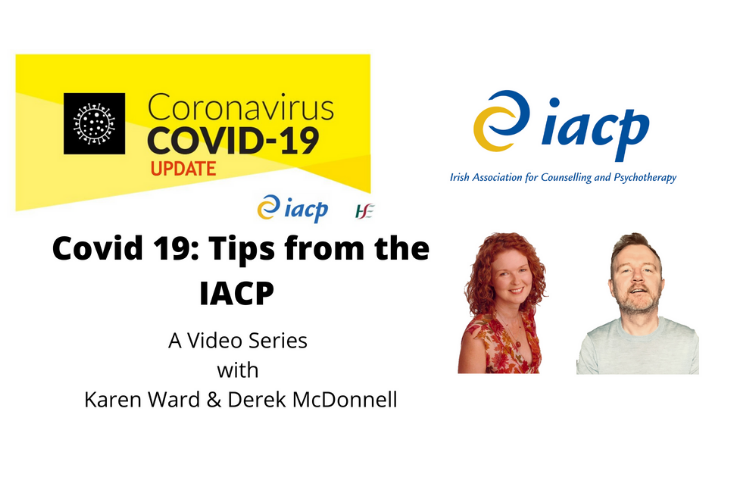 IACP Members Karen Ward and Derek McDonnell feature in a video series that is currently being regularly released on IACP's Social Media Platforms. Karen and Derek offer their tips for coping with the various mental stressors that might arise during the current crisis. Topics include routine, worrying, maintaining and positive attitude and many more.
These videos can be viewed by visiting our FAQ section, YouTube Channel, Twitter, LinkedIn, and Instagram. Be sure to subscribe to us on our social media channels for updates and new content.
About Karen Ward:
Karen is a Holistic Counselling Psychotherapist and an Energy Therapist treating her clients physically, mentally emotionally & spiritually. Karen's renowned book 'Change a Little to Change a Lot' was published in 2009. That same year she was featured regularly on the Wellbeing panel of TV3's 'Morning with Martin & Sybil. Along with her sister Valerie, she was the Yoga Teacher & Energy Therapist in the new BBC programme 'Last Resort' screened in 2008/2009. However, she is probably best known as the Holistic Therapy Presenter on RTE's programme 'The Health Squad' which ran successfully for five years 2002-2007.
To learn more about Karen, please visit see: http://www.karenwardholistictherapist.com/bio.html.
About Derek McDonnell:
Derek is an award-winning community development and training specialist with 20 years' experience. He holds a B.Sc. in Counselling and Psychotherapy and an LL.M in Gender, Sexuality, and Human Rights. He also has qualifications in youth and community development, mental health, family therapy, and adult education.
To learn more about Derek, please see http://www.bigpictureconsultancy.com