Meet the Board: Ray Henry [13/08/20]
IACP Cathaoirleach Ray Henry Speaks To Us About His Journey As a Counsellor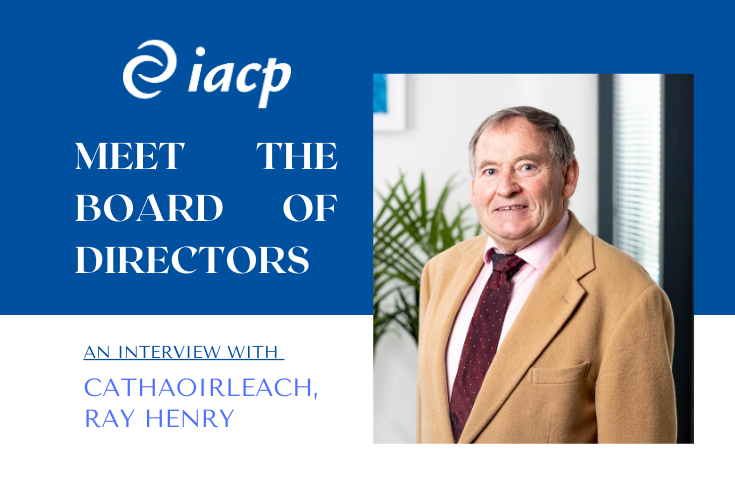 What made you interested in a career in Counselling/Psychotherapy?

In the mid 90's I was working as a Social Care Manager in a residential home for young people and was obligated to do professional development that would enrich or top up what relevant knowledge I already had in the area of working with young people in care and in the management of staff.
Though I did not have much interest in studying counselling at that time i.e. 1996, an opportunity presented itself whereby I was accepted onto the two-year Counselling course in Trinity College. The truth be known I was more interested in getting into Trinity College than on the counselling course. However the subject on Staff Management as part of the course did appeal to me. The plan was that at the end of the first year I would jump ship as this subject was to be delivered in the first year.
This I know was a bit extreme, but it was what it was, an introduction to counselling and a place in the historical Trinity College.
That is how and why I ended up on the counselling course and to my amazement and astonishment from the beginning I enjoyed every aspect of the course through my fellow students to the subjects studied and the relevance of the profession to Irish society.
I have no doubt the sequence of events was meant to be and was a major driving force behind my involvement in IACP
What advice would you give to the new generation of IACP Members?

Over the years, the level of paperwork has increased beyond expectation, and it is important to keep abreast of the paper work. However it is equally important to ensure that you don't become bogged down and stifled by this paper work. Get a system going for yourself, but always remember the client is your main focus, listen to your instincts, let your brain and logic rule your head, handle the paper work, always let kindness rule your heart and your actions. That way you will never stray too far, and will always have a clear conscience.
If you could give a younger you any piece of advice what would it be?

Self-Care is of vital importance to your profession. Look after yourself and give yourself time out. Do not underestimate this aspect of your practice. Sometimes we expect too much from ourselves. Don't become too obsessed about the paper work. If it doesn't impact on the client then stop worrying about it. It is compulsory to attend to it, but it's not compulsory to be perfect, so do not strive towards administrative perfection. Get to value the vital importance of your supervisor
Make sure to meet up with other counsellors and don't work in isolation. It was very hard when I was starting out because the networks weren't in place and there weren't as many counsellors around the country. However, there is great value to be had from comradeship. IACP is a big organisation with wide and varied supports. Become aware of what the organisation has to offer you - get involved at a gradual level. It is very interesting and needs you.
What do you think the future looks for our profession?

Counselling/Psychotherapy is a growing profession where the demands will increase. I expect that through time it will become an intrinsic part of the primary health care roll out, and Counsellors/Psychotherapists will be employed by the HSE and other service providers as a norm where they will be paid in line with similar professional practitioners. I envisage a greater awareness of the benefits of counselling as a preventative measure as well as a solution based intervention. I have no doubt that this professional body will embrace more than ever digital platforms, and while from a therapeutic perspective I do not believe face to face counselling will be replaced by a more effective format. I do believe there will be an important place for online counselling that the profession needs to remain ahead of clearly defined developments where there will be the need to keep in place regulations to ensure ethical standards are rigidly upheld.
What skills/attributes are essential for working in this profession?

I am slow to define specific attributes required to join this profession, other than to be a normal empathetic human being with a strong and positive interest in people. These are strengths that most of us have, so by association most normal people have the attributes to become Counsellors/Psychotherapists. In terms of skills; there are skills which can be developed with training which can assist and contribute to effective counselling. Skills such as listening, being able to do nothing when there is nothing to be done, being able to manage the necessary administrative work. We also need to recognise our limitations when counselling is not enough and where further intervention is required.
What key piece of learning has the Pandemic taught you?

The absolute vital importance of human contact and human interaction in terms of maintaining our mental health is necessary. It has also demonstrated that humans can be innovative in finding ways of doing this when challenges arise. For many of us it has thought us that digital objects are not as frightening as we might have thought. I found that people who were once afraid to try their hand at zoom, face time and other online platforms have realised that they are more able than they thought, especially those moving on in years – like myself.