Level 5 Restrictions Update for IACP Members [20/10/20]
Following advice from the Irish Government regarding the prevention of further Covid-19 outbreak, the IACP office – at Marina House, Clarence Street, Dun Laoghaire, Co. Dublin will close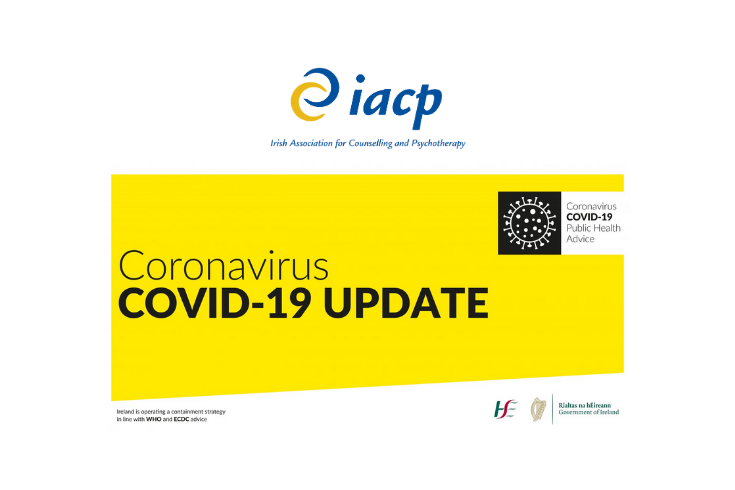 Dear Member,
Last night, under advice from NPHET, An Taoiseach, Michael Martin announced that the entire country would move to Level 5 of the Living with COVID-19 Framework with additional restrictions from midnight on Wednesday 21st October. In relation to work arrangements, the advice is that "Everyone who can work from home must work from home".
On that basis, the IACP office will be fully closed with all staff working remotely until Tuesday 1st December or until further government advice. Please note that the phone lines (now via mobile phone) will remain open Monday-Friday 9.30 am – 1 pm and to contact us during this time the following are the mobile numbers for Member Care and Accreditation.
Member Care
0851797902
0851797899
Accreditation
0851797895
0851797894
Counsellors or psychotherapists can be considered part of Social Care, which is an essential service (for essential cases). As long as Government and NPHET protocols and guidance on social distancing are followed, it is up to the individual counsellor's/psychotherapist's own judgement as to whether to meet clients face-to-face or through remote means.
It is appreciated that significant planning may be required to move to a new model of operating with the challenges of COVID-19, however, it is the responsibility of employers (and self-employed persons) to apply a risk-based approach to returning to work and to prepare to apply the precautions necessary to comply fully with the public health advice.
We'd also like to draw your attention to the Return to Work Safely Protocol which was published by the Minister for Business, Enterprise and Innovation on Saturday 9 May. This detailed guidance document was developed to assist employers and employees in the coming period. Link to the protocol is here.
Anyone whose work does qualify as an essential service and wishes to continue to work face-to-face must adhere to public health safety guidelines as outlined by the HPSC, HSE, and the HSA. Additionally, we have developed IACP Guidelines for those IACP who continue to work face-to-face.
Please see below for some useful links to guide you through the upcoming weeks:
We would like to remind you that we have a dedicated Covid-19 page on our website that can be found here.
Kind regards,
Hugh O'Donoghue
Communications and Media Officer